Summer Eat-In & Take Away Menu (click for a larger view):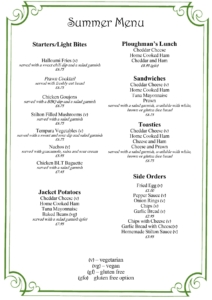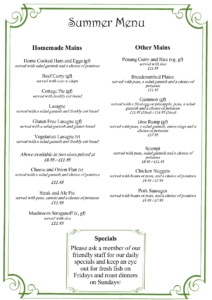 Current cooking times:
Monday to Thursday:
12.00pm – 2.00pm and 5.30pm – 8.30pm
Friday and Saturday:
12.00pm – 2.00pm and 5.30 – 9.00pm
Sunday:
12.00pm – 8.00pm
Our opening/closing times may vary due to demand.
Please phone for Eat -In & Take Away booking details (apologies we cannot take bookings by email).
Take Away time slots must be prebooked. Contact us on 01761 241384 or over Facebook to avoid disappointment!

*Prices are accurate at the time of writing but please notice that they are subject to change without notice.